The Customer Record (CAD) (also known as a CR) page can be accessed by selecting the "Customer Record Administration" menu item from the Menu and then the "Customer Record" sub-menu item. A CR contains the Basic Customer Record (also known as a Customer Record Administrative Data (CAD)) and optionally it can have a Call Processing Record (CPR) and/or a Label Definition (LAD).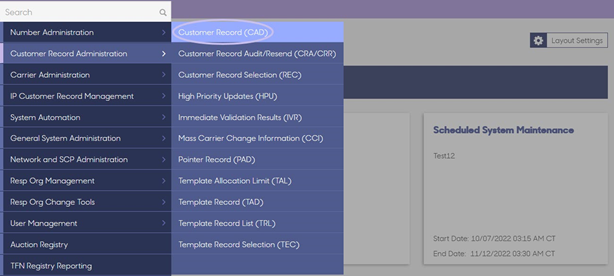 Responsible Organization (Resp Org) users with Customer Record view permissions can view the CR page but they cannot make any modifications to the record. Resp Org users with Customer Record update permissions can create, view and update the CAD, CPR and LAD pages accordingly to activate or update a Toll-Free Number (TFN) on behalf of a Toll-Free subscriber. If you require Customer Record view or update permissions, you must contact your Resp Org's Primary Contact or Company Administrator for assistance.
A CAD can be associated with a CPR for complex call routing scenarios and a CAD can be associated with a LAD for defining labels that can be used in the CPR.
In addition to normal CAD view and update, a High Priority Update (HPU) for Customer Records can also be performed using the CR page. When a Customer Record is updated as High Priority, the TFNRegistry™ downloads the record ahead of "normal" CADs. There is a daily limit of HPU actions that a Resp Org can take within a given day, and each HPU performed by an authorized user on a Customer Record reduces the remaining number of HPU actions that may be completed. Resp Org Entities (an Entity ID is the first 2 characters of the Resp Org ID) have a configurable limit of HPU Customer Record updates per day.
For more information on the CAD page's field descriptions and their valid values, please click here.
Learn more about this topic in the following video!
Disclaimer: This video is intended to be used as a guide for educational purposes only. Pages shown in the video may differ slightly from the Production Environment.