The Target Record should have the same Toll-Free Number (TFN) as the Source Record but with a different Effective Date and Time. The Target Record contains:
Toll-Free Number/Template: The TFN or Template Name that you want to Transfer the Source Record.
Now: There is a provision to select "Now" by checking the box to the right of the Toll-Free Number/Template field. Selecting this check box will set the Target Record to the Effective Date and Time of "Now".
Effective Date: The Effective Date of the Target Record. It must be in the standard MM/DD/YYYY format. This field can be manually entered or by selecting the "Calendar" icon to the right of the Effective Date field to choose the desired date.
Effective Time: The Effective Time of the selected Customer Record (CAD) (also known as a CR). This field must be entered the HH:MM AM/PM format.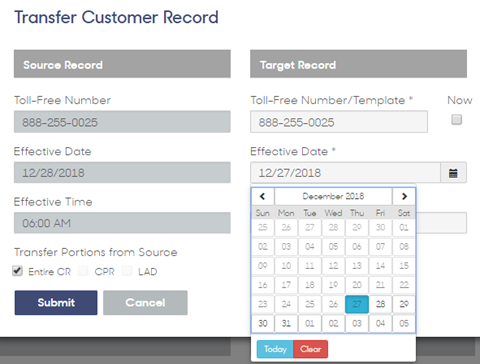 Learn more about this topic in the following video!
Disclaimer: This video is intended to be used as a guide for educational purposes only. Pages shown in the video may differ slightly from the Production Environment.