You can update and modify the Treatment (TA) status on the SCP NPA-NXX List (NXX) page for a specified SCP ID and Numbering Plan Area (NPA) pair. The available Treatment values are:
B - Out of Band Announcement

D - Delayed Turnaround

N - No Turnaround

V - Vacant Code Announcement
To Update an SCP NPA-NXX List:
Retrieve the desired SCP NPA-NXX List information for the NPA and SCP ID pair.

Select the Effective Date using the "Calendar" icon.

Enter the valid values for NXX Range – Start and End in the corresponding fields.

Select the Treatment values from the drop down menu.

Once the information has been updated, select the "Apply" button to save the changes.

Once the Treatment values are applied, the NXX List values will be updated.

Select the "Submit" button to complete the update.
Once the NXX information is updated, a message, "SCP NPA-NXX List Updated Successfully" will be displayed at the top of the page.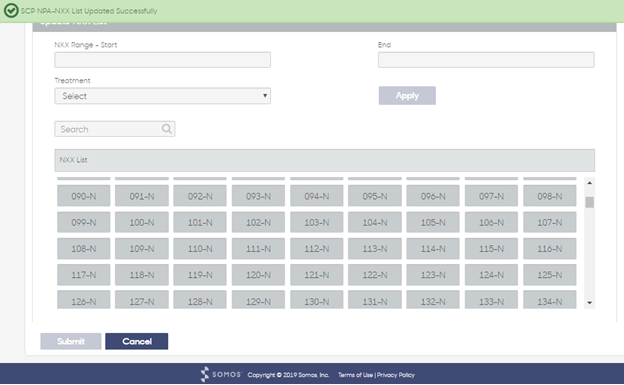 Disclaimer: Any images in this article are intended to be used as a guide for educational purposes only and they may differ slightly from the Production Environment.