The following steps must be followed to create a Disconnected Template Record (TAD) (also known as a TR) for Now:
Retrieve the TR for the Toll-Free Number (TFN) that needs to be disconnected. Please Note: All Pointer Records (PADs) (also known as PRs) must be pointed to a new TR prior to disconnecting a TR. This can easily be accomplished by proceeding with an Multi Conversion to Pointer Record (MCP) for the list of PRs. To check the PAD quantity associated to a TR, please navigate to the Template Record List (TRL) page.

Select the "Copy" icon available at the top of the TR page. A "Copy Template Record" pop-up window will be displayed.

Enter or select the TFN or Template Name to disconnect (optional).

Select the "Now" check box. Once the "Now" is selected, Effective Date and Effective Time fields will be grayed out.

Select the "Disconnect" radio button.

Option: To modify an existing Disconnect record (through copy) set the Action to "Change" radio button in the "Copy Template Record" pop-up window.

Select the "Submit" button to return to the TR page with the Target Record.

Please Note: If you selected a different TFN or Template, then the TR page of that record will be displayed.

You must "Submit" button to disconnect the record on the TR page.

In the editable TAD page, enter any changes (if any) and then select the "Submit" button.
It should be in a "Pending" status if no errors were found. After it is in a "Pending" status, you can select the "Retrieve" icon to refresh the page. At it's Effective Date/Time, it will go into "Sending" and then you will receive an pop-up message saying, "No Results Found, Do you want a create a new Template Record?".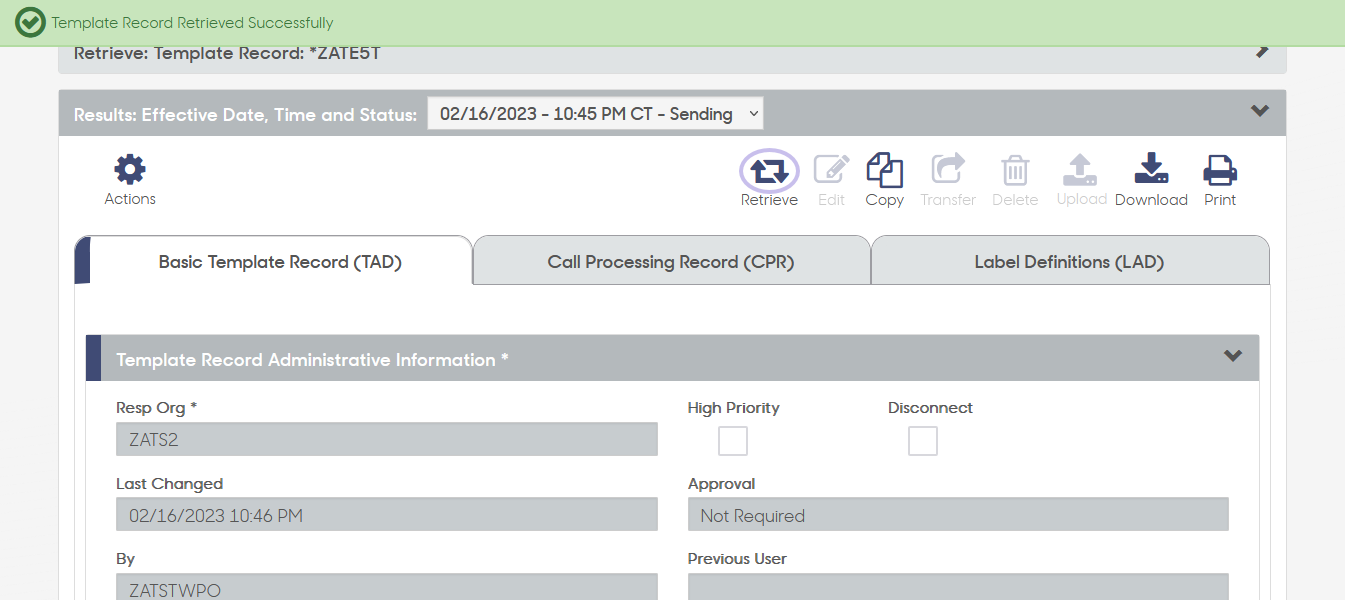 For more information on how to reactivate a disconnected TR, please click here.
Learn more about this topic in the following video!
Disclaimer: This video is intended to be used as a guide for educational purposes only. Pages shown in the video may differ slightly from the Production Environment.