Similar to Customer Records (CADs) (also known as CRs), Pointer Records (PADs) (also known as PRs) are uniquely identified by their Toll-Free Number (TFN) and Effective Date and Time. PRs contain some CAD information for the TFN. But unlike regular CRs, the PRs excludes the Areas of Service (AOS) and Carrier information and a Template Name is specified in a PR in the AOS and Carrier's place. The PR page enables Responsible Organizations (Resp Orgs) to create, view and update a PR that uses (points to) a Template Record (TAD) (also known as a TR) for its routing data (Call Processing Record (CPR) and Label Definitions (LAD) portions). Resp Orgs have the capability to use any of their Template Names for multiple CRs on multiple TFNs.
To access the PAD page, you must select the Menu icon at the top of any page, select the "Customer Record Administration" menu item, and then select the "Pointer Record (PAD)" sub-menu item. Once the "Pointer Record (PAD)" sub-menu item has been selected, the PR page will be displayed.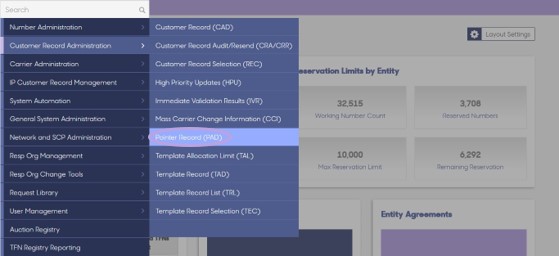 Disclaimer: Any images in this article are intended to be used as a guide for educational purposes only and they may differ slightly from the Production Environment.