To create a Network Provider-SCP Owner/Operator IntraLATA Agreements (NLA) record, you must first retrieve the page before completing the following steps:
Enter a valid Network ID known to the TFNRegistry

TM and select the "Retrieve" button.
When there are no records, a pop-up window "No Results Found" will be displayed.

Select the "Yes" button to create a new record.

You will be returned to the NLA page.

On the NLA page, enter the Contact Name, Contact Phone Number and Contact Email details in the corresponding fields.

Enter the Responsible Organization(s) (Resp Org(s)) with IntraLATA Agreements for Carrier Identification Code (CIC) 0110 information.

Then select the "Submit" button.
A new record will be created for the corresponding Resp Org and a message, "Network Provider-SCP Owner/Operator IntraLATA Agreements Created Successfully" will be displayed at the top of the page.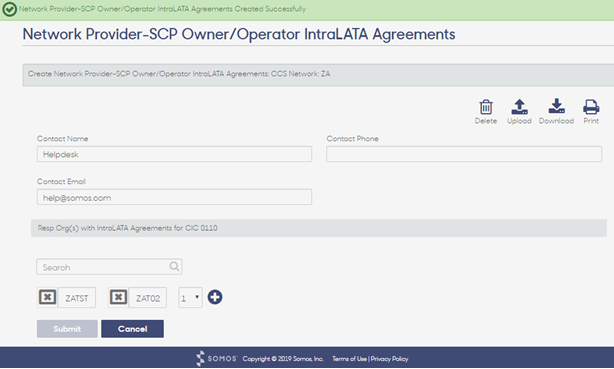 For more information on the NLA/NLE fields, their descriptions and their valid values, please click here.