When you retrieve a Toll-Free Number (TFN) on the Customer Record Selection (REC) page, the results will be displayed. After you have selected the desired record, you can then select the desired component (e.g. Customer Record (CAD), Label Definitions (LAD), Call Processing Record (CPR) or Pointer Record (PAD)) in the "Components" portion and you will be directed to that component itself.
On the REC page, enter the TFN and select the "Retrieve" button. The REC information for the CR will be displayed with a hyperlink for CAD, LAD, CPR and PAD page. By selecting a link, the requested page will be displayed.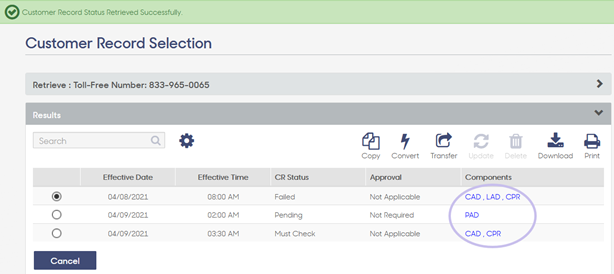 Disclaimer: Any images in this article are intended to be used as a guide for educational purposes only and they may differ slightly from the Production Environment.
For more information on the REC page's fields, their descriptions, and their valid values, please click here.