The Label Definitions (LAD) tab of the Template Record (TAD) (also known as a TR) page allows you to define labels for criteria values used on an associated Call Processing Record (CPR) (i.e. a CPR with the same TFNs or TR). A label name must start with an asterisk (*) and have no more than 8 alphanumeric characters (maximum length).
Select the Label Definitions (LAD) tab in the TR page to view and define labels. You can copy and paste or add data in the Label Entry Text Box. The data entered in the Text Box will be auto-formatted in valid or invalid format.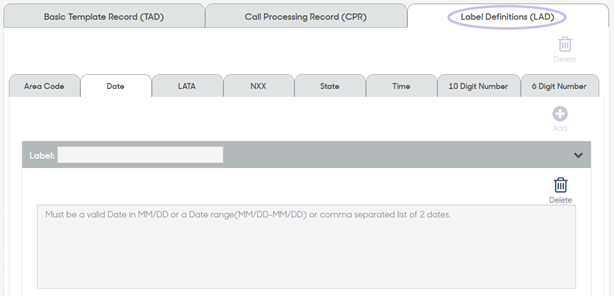 A LAD Label can be one or more of the following types:
For more information on LAD fields, their descriptions and valid values, please click here, or here for more information on how to retrieve a TR.
Learn more about this topic in the following video!
Disclaimer: This video is intended to be used as a guide for educational purposes only. Pages shown in the video may differ slightly from the Production Environment.