With the selected Acting As Responsible Organization (Resp Org) ID, you can retrieve, audit, resend and delete a Customer Record Audit/Resend (CRA/CRR). A message, "Audit Request has been submitted Successfully. Please check your mailbox for detailed results" will be displayed at the top of the page. Select the "More Details" button to view the error/warning message. You must log into you email account registered with the TFNRegistry™ to check the Customer Record (CAD) (also known as a CR) detailed results upon completion.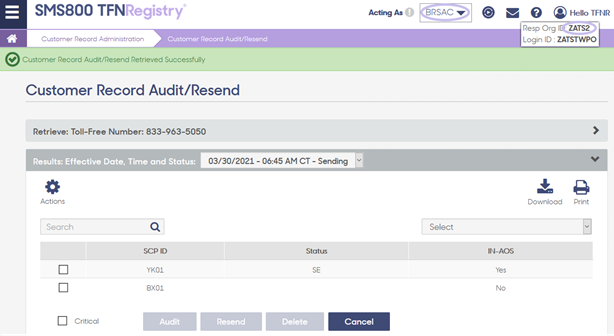 For more information on CRA/CRR Acting As function descriptions, please click here.
For more information on how to select a new Acting As Resp Org ID, please click here.
Learn more about this topic in the following video!
Disclaimer: This video is intended to be used as a guide for educational purposes only. Pages shown in the video may differ slightly from the Production Environment.