To delete or remove a Customer Record (CAD) (also known as a CR) from one or more Service Control Points (SCPs), select the SCP ID check boxes and then select the "Delete" button to delete the CR from all selected SCPs. To be able to delete the CR records, all selected SCPs must be outside the Areas of Service (AOS). A pop-up window with a message, "Are you sure you want to delete?" will be displayed requesting the user to confirm the Delete action.

Select the "Yes" button to delete. The message, "Delete Request has been submitted Successfully. Please check your mailbox for detailed results" will be displayed at the top of the page. You must log into your email account registered with the TFNRegistry™ to check the CR Audit detailed results upon completion.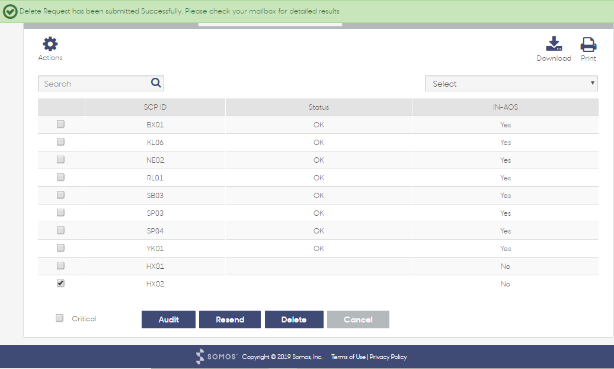 Disclaimer: Any images in this article are intended to be used as a guide for educational purposes only and they may differ slightly from the Production Environment.
For more information on CRA/CRR fields, their descriptions and their valid values, please click here.