The following steps must be followed to create the Disconnect Customer Record (CAD) (also known as a CR) for Now:
Retrieve the CR for the Toll-Free Number (TFN) needing the Disconnect CR.

Select the "Copy" icon available at the top of the CR page and then the "Copy Customer Record" pop-up window will be displayed.

Enter the TFN or Template Name (Optional) to change the disconnect TFN.

Select the "Now" check box. Once the "Now" is selected, Effective Date and Effective Time fields will be grayed out.

Select the CR "Copy Portions from Source" (CR Basic Data/CPR/LAD) check boxes that needs to be copied to the Target Record.

Select the "Disconnect" radio button.

Option: To modify an existing Disconnect record (through copy) set the Action to "Change" radio button in the "Copy Customer Record" pop-up window.

Select the "Submit" button to return to the CR page with the Target Record.
Please Note: If you select a different TFN or Template then the TR page of that record will be displayed. You should select the End Intercept Date, Referrals and then "Submit" button to disconnect the record.
For more information on the 45 day rule, please click here.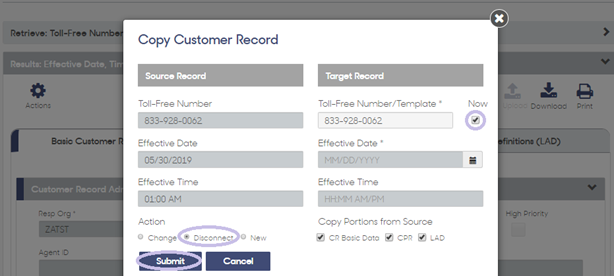 Learn more about this topic in the following video!
Disclaimer: This video is intended to be used as a guide for educational purposes only. Pages shown in the video may differ slightly from the Production Environment.