The Mass Carrier Change Information (CCI) page allows you, as an authorized user, to perform mass change of Carrier Identification Codes (CICs) with a new CIC for all of the Responsible Organization's (Resp Org's) records. To perform a Mass Carrier change, it is necessary to provide the "Change-from" carrier with the "Change-to" Carrier to the TFNRegistry™. The change may be limited to the records controlled by specified Resp Orgs. You can only retrieve (view) and not update the information on the CCI page for your own Resp Org.
To access the CCI page, you must select the Menu icon at the top of any page, select the "Customer Record Administration" menu item, and then select the "Mass Carrier Change Information (CCI)" sub-menu item. Once the "Mass Carrier Change Information" sub-menu item has been selected, the CCI page will be displayed.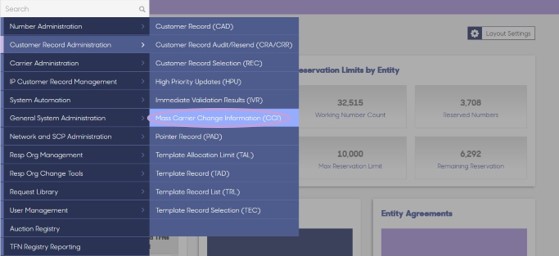 Disclaimer: Any images in this article are intended to be used as a guide for educational purposes only and they may differ slightly from the Production Environment.
For more information on Mass CCI page's fields, their descriptions and their valid values, please click here.