You, a Responsible Organization (Resp Org) user, have the ability to update an Area of Service (AOS) Label Definitions (ASL). To update (i.e. add or remove the values (i.e. definitions)) the desired ASL, you must first retrieve it.
To add new values, select the "Add" icon, add the values in the field and select the "Submit" button to add the values.
To remove the values, select the "Delete Item" icon, which turns into the "Red Delete Item" icon upon selection. Then select the "Submit" button to remove the values.
In the above steps, after the update succeeds following selecting the "Submit" button, a message stating, "Area of Service Label Definitions Updated Successfully" will be displayed at the top of the page.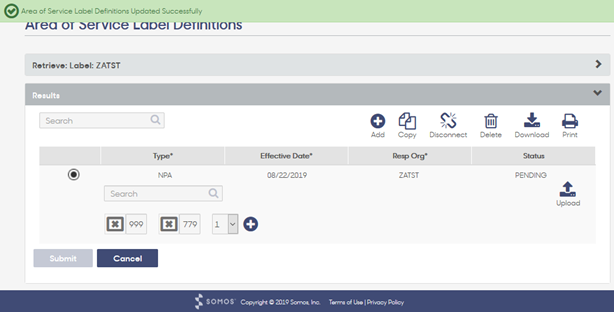 For more information on how to copy an ASL, please click here, or here for more information on the ASL page's fields, descriptions, and their valid values.