To access the Resp Org Report Control (ORC) page, select the Menu icon in the upper left corner of a page, then select "Resp Org Management" sub-menu item followed by the "Resp Org Report Control" sub-menu item.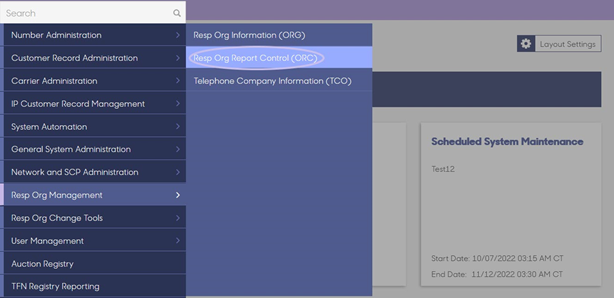 The following operations are supported for the ORC page:
The ORC page allows you to configure their Resp Org's email addresses to receive TFNRegistry™ generated messages and exception reports for their Resp Org. You can edit your own Resp Org ORC information and you may be permitted to view (not edit) another Resp Org's ORC information. The ORC page supports email notification configuration of the following Resp Org exception reports:
Customer Record Activation Failure: The Customer Record Activation Failure exception report notifies the Controlling (current, old) Resp Org when their Customer Record (CAD) (also known as a CR) was sent to Service Control Points (SCPs) but failed at the SCPs upon activation attempt. It is also sent when a CR has remained in Sending status for a prolonged duration.
Resp Org Change Notification: This report is sent to the new Resp Org whenever a Resp Org change is done. This report will also be sent to the old Resp Org if the change was made by an Administrator.
CNA Resp Org Change Notification to Involved Carriers: This report is sent to the involved carrier when the Resp Org changes on a CR.
For more information on how to retrieve the ORC page, please click here, or here for more information on the ORC page's fields, descriptions, and their valid values.