You must login with a valid Somos Login ID in order to access the TFNRegistry.
Once the TFNRegistry Login page is displayed, the you must log in with your Login ID and password.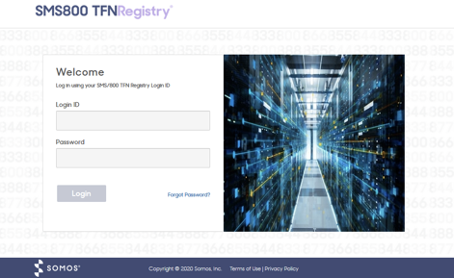 If you know the Login ID and password, you can enter them in the proper fields and then select the "Login" button.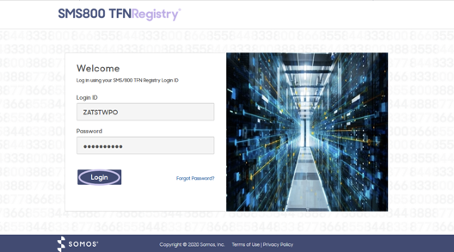 After successfully logging into the TFNRegistry, the Landing page (also known as the Home page) will be displayed. For more information regarding the Landing page, please click here. If an incorrect Login ID or password has been entered, the following error message will be displayed: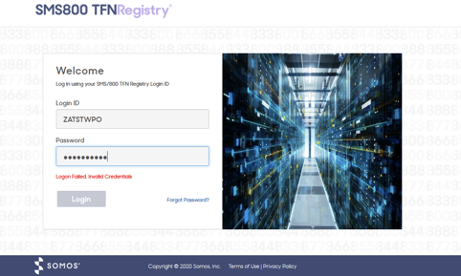 If you have entered an incorrect password or you have forgotten it, then you can select "Forgot Password" button on the Login page. For a detailed explanation on how to use the Forgot Password option, please click here. If the Login ID has been locked out for any reason, you must call or text the Help Desk at 844.HEY.SOMOS (844.439.7666), Option 1. If you do not know the Login ID or PIN, then you must contact your Resp Org's Primary Contact and/or Company Administrator(s) for further assistance.
Please Note: When logging into the TFNRegistry for the first time, you must provide the password with the exact case (upper or lower) which was last used. In the case of an unsuccessful login, you must select the "Forgot Password" link.
To log out, you must select the "Logout" button. When you select the "Logout" button, your session will be terminated, and you will be redirected to the Login page.
Learn more about this topic in the following video!
Disclaimer: This video is intended to be used as a guide for educational purposes only. Pages shown in the video may differ slightly from the Production Environment.