The Auction Flag feature is an indicator that allows you to identify, enforce and protect the special treatment assigned for the Auctioned Toll-Free Numbers (TFNs) in the TFNRegistry™. Auctioned TFN can be in the Reserved status indefinitely and it can be moved to another Responsible Organization (Resp Org) ID. Auction Flag is set as "Yes" to prevent accidental sparing and if spared by accident, you can call or text the Help Desk at 844.HEY.SOMOS (844.439.7666), Option 1.
With the Acting As feature, you can only update an Auctioned TFN's status when:
Acting As, Controlling (current, old) Resp Org and TFN's Resp Org are the same (this is the existing TFNRegistry behavior).

Acting As and TFN's Resp Org are same, while Controlling Resp Org is different.
On the Number Query and Update (NQU) page, when an Auctioned TFN has been retrieved, you can view that the Auctioned Flag is set as "Yes" and Reserved Until Date is set as "NA".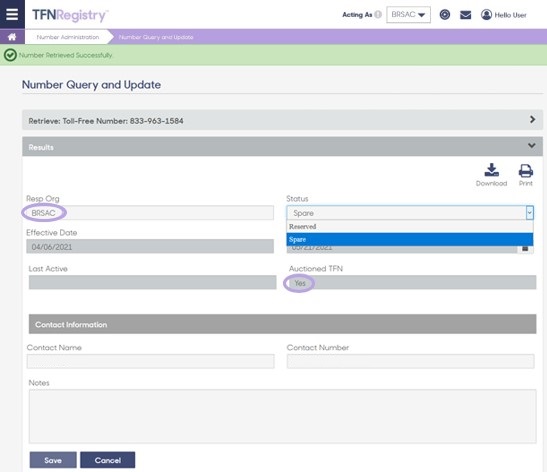 To spare the Auctioned TFN, you can change the Status to Spare and then, select the "Save" button. A message, "You are attempting to spare an Auctioned Toll-Free Number. If you proceed the number may lose its special status as an Auctioned Toll-Free Number. Do you wish to continue?" will be displayed.

By selecting the "Yes" button, the TFN will be automatically spared. By selecting the "No" button, you will be redirected to the NQU page.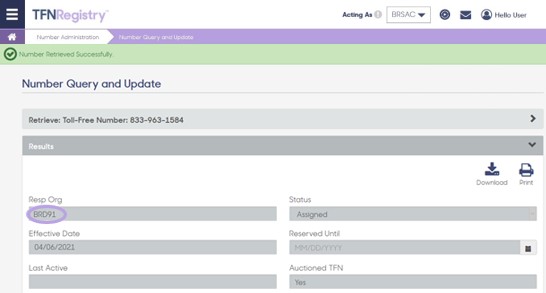 Disclaimer: Any images in this article are intended to be used as a guide for educational purposes only and they may differ slightly from the Production Environment.