The Bulk Message Center (BMC) icon is located on the upper right corner of the Landing page or on any page. It displays all the bulk Number Search and Reserve (NUS), One Click Activate (OCA) and Automation Request Input (ARI) Request ID information. You can select the "Bulk Message Center"

icon to view the list of Request IDs. You can select the desired Request ID to be taken to that request or select the "View All" button to be directed to the BMC page.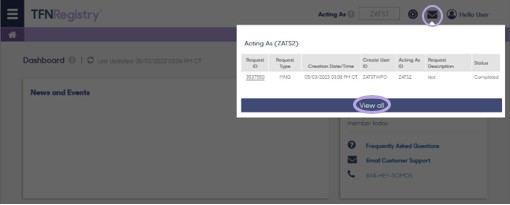 Please Note: If you have not submitted any bulk requests yet, you will receive the following error message, "No results to display".

Disclaimer: Any images in this article are intended to be used as a guide for educational purposes only and they may differ slightly from the Production Environment.