The Number Administration (NA) function allows you, as a Responsible Organization (Resp Org) user, to search for available Toll-Free Numbers (TFNs) in the Spare pool using specified criteria and reserve numbers that will be used by the Toll-Free Subscribers. The NA function enables you to search with any random numbers or search with a TFN or TFNs that are consecutive and/or include a designated combination of digits like TFN Numbering Plan Area (NPA) codes (e.g., 800, 888, 877, 866, 855, 844, 833, etc.) and combinations of digits (e.g. repeating digits and digits whose corresponding telephone keypad letter values spell a word or phrase). The NA function uses different capabilities for searches and reservations to be handled so that only a specific Resp Org does not gain an advantage to reserve a given TFN. The NA function also tracks the overall assignment of your TFNs to enforce regulations for TFN allocation as designated in the TFNRegistry™ Functions Tariff which is on file with the Federal Communications Commission (FCC).
The NA function maintains the status for each TFN regardless if it has been reserved, if a Customer Record (CAD) (also known as a CR) or Pointer Record (PAD) (also known as a PR) has been created for the TFN or the TFN is available. It also enables you to search the TFNRegistry™ for the status and reservation information associated with a TFN. From the TFNRegistry's Landing page or any page, if you want to access the NA pages, then you should select the "Number Administration" from the Menu icon. The Number Administration menu item consists of the following features:
To hide the menu, you can select anywhere on the page.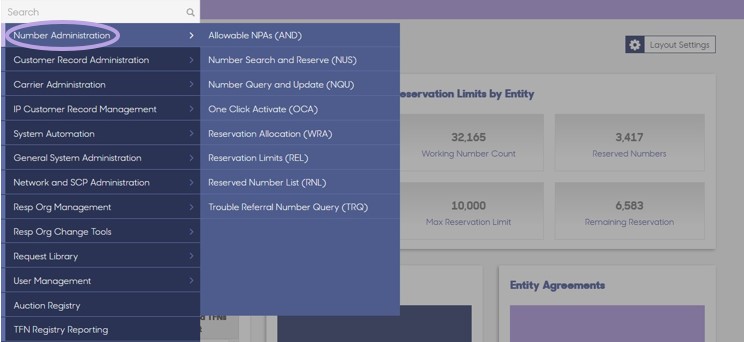 Disclaimer: Any images in this article are intended to be used as a guide for educational purposes only and they may differ slightly from the Production Environment.