The Acting As feature allows you to act as another Responsible Organization (Resp Org) with their ID in order to manage Toll-Free Numbers (TFNs) that belong to the other Resp Org's Entity within the TFNRegistry™. The Resp Org IDs that you have access to are based upon the Cross-Entity permissions established in your Profile. Cross-Entity permissions can be managed for you by your Resp Org's Primary Contact and/or Company Administrator(s) on the Somos Portal Website (portal.somos.com). You can also search for the Resp Orgs in the Acting As drop down menu that will be visible in the ascending sequence. You can also open multiple windows and change the Resp Org ID to access and perform the related capabilities of that controlling Resp Org. When you change the Resp Org in one tab, the same will be reflected on the other tabs.
Please Note: Acting As is visible on most of the pages but only certain pages are supported. For the list of the pages that are supported, please click here.
By default whenever the user logs in to the account, the Controlling (current, old) Resp Org ID will be displayed as the Acting As Resp Org ID. You can select a new Resp Org ID from the drop down menu.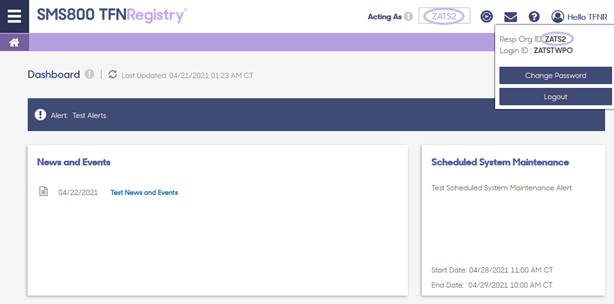 Learn more about this topic in the following video!
Disclaimer: This video is intended to be used as a guide for educational purposes only. Pages shown in the video may differ slightly from the Production Environment.