In the "Attachments" portion of a Resp Org Change Help Desk Intervention (ROC HDI) (also known as HDI) request within the TFNRegistry™ (tfnregistry.somos.com), you can add additional documentation to the request if you desire. This is optional.


If you chose to upload additional documentation, you will still be able to submit the request as if you had not.

After you have completed the required portions of the request, uploaded any attachments as needed, you can choose to proceed with submitting this request or not. In this portion of the HDI request, it reminds you that, "By submitting this request, you agree to pay the additional Resp Org Change tariff fee per Toll-Free Number.". The current tariff rates can be found here. By selecting the "Cancel" button, this will cancel the re-submission process to the Help Desk. Selecting the "Submit" button will display a "Help Desk Intervention Request Submitted Successfully" message. It will clear the HDI request. For more information about these buttons, please click here.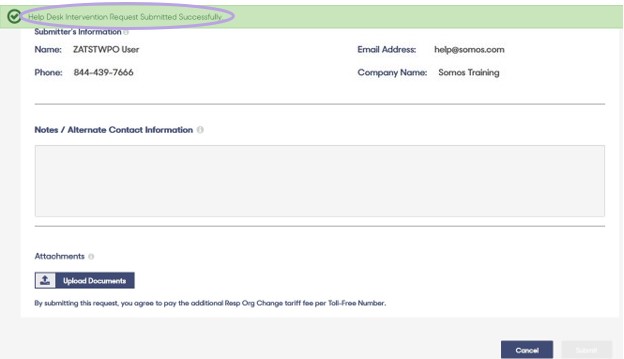 Disclaimer: Any images in this article are intended to be used as a guide for educational purposes only and they may differ slightly from the Production Environment.
For more information on the "What would you like to do?" portion of an HDI request, please click here, or here for more information on the "Notes / Alternate Contact Information" portion of an HDI request.
Once the request has been received and no errors were found, the Help Desk will process the request in the TFNRegistry and an email notification will be sent to the submitter of the request.