By selecting the "LOA is not Required" option for the Letter of Agency (LOA) Attachment Type on the Responsible Organization (Resp Org) Change (ROC) Request (RSB) page, it will allow you to submit the ROC request without attaching an LOA.

To send the ROC request to the Controlling (current, old) Responsible Organization (Resp Org), select the "Submit" button. Once you submit a ROC request without an LOA attachment, then a "LOA Not Attached" pop-up window will display. Select the "Yes, proceed" button to continue or select the "No, cancel" button to close.

On a successful ROC request submission to the ROC System, it will display a confirmation message at the top of the page stating, "Resp Org Change Request Submitted Successfully" and a new RSB page will be displayed.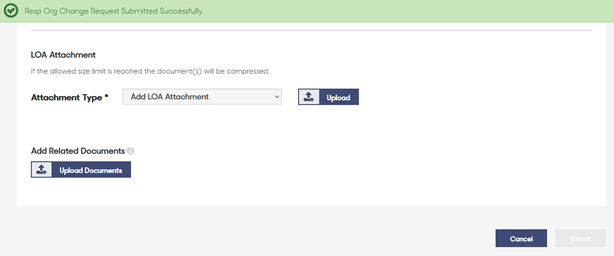 Disclaimer: Any images in this article are intended to be used as a guide for educational purposes only and they may differ slightly from the Production Environment.